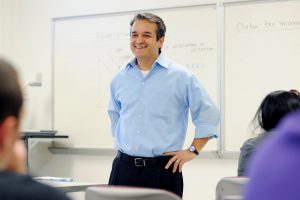 Edward J. Lopez is Professor of Economics, BB&T Distinguished Professor of Capitalism, and founding Director (2015-2022) of the Center for the Study of Free Enterprise at Western Carolina University, where he teaches classes in economics and the ethics of capitalism. He previously taught public choice and economics of intellectual property at San Jose State University.
Edward is the Executive Director and Past President of the Public Choice Society, an international, inter-disciplinary association of collective action scholars celebrating its 60th anniversary in March, 2023. He is also Past President of the Association of Private Enterprise Education, board member at the North Carolina Council on Economics Education, and Associate Editor of the Journal of Entrepreneurship & Public Policy. He is a Fellow of the Public Choice and Public Policy Project and a member of the Standing Committee at the American Institute for Economic Research. In 2020-22, he was President of Classical Liberals in the Carolinas, a regional network of academics and professionals who convene around topics of liberty and responsibility.
Edward's research focuses on the economics of ideas, entrepreneurship, and politics. His early papers build theoretical and empirical models of institutional change, mostly by studying political entrepreneurship and federal-state voting patterns in the United States. His more recent work tightens focus on the influence of ideas and interests in shaping institutional arrangements. His first book is an edited volume that uses public choice theory to study how the legal system actually works in practice, and to recommend beneficial reforms in civil and criminal law (The Pursuit of Justice: Law and Economics of Legal Institutions, Palgrave Macmillan, 2010). Edward's second book, co-authored with Wayne A. Leighton, is Madmen, Intellectuals and Academic Scribblers: The Economic Engine of Political Change (Stanford University Press 2013). Amazon reviewers have described Madmen as "insanely well written", "a brilliant, clear description", and "completely addicting to read". In May 2016, a Chinese translation of Madmen was released by China Financial Publishing House. Edward's more than 50 scholarly papers have appeared in outlets such as Public Choice, Journal of Institutional Economics, Review of Law & Economics, Review of Austrian Economics, Southern Economic Journal, Political Research Quarterly, Social Science Quarterly, Eastern Economic Journal, and more.
On campus Edward has served as the convener of the Council of Distinguished Professors (2013-2015), chair of the search committee for Gimelstob-Landry Distinguished Professor in Economic Development (2015, 2016), and committee member on Vice Chancellor Development & Alumni Affairs search (2016), Vice Chancellor for Administration & Finance search (2014), University Collegial Review (2014-15, 2016-17), Economics Faculty search (2015-16), School of Economics, Management and Project Management Collegial Review (2015-16, 16-17), Chancellor's Honorary Doctorate selection (2013), and College of Business Curriculum (2012-14).
Outside academia, Edward has worked as a staff economist for the Joint Economic Committee of the U.S. Congress, as manager of policymaker education for the Mercatus Center, and as economics program officer at the Institute for Humane Studies. In 2001 he was a visiting scholar at the Center for the Study of Public Choice, in 2007-08 he was a Resident Scholar at Liberty Fund, Inc., and in 2010 he was a Visiting Scholar at the Social Philosophy & Policy Center.
Edward is a frequent speaker at professional conferences, on college campuses, and before business and community groups. A native of San Antonio, Texas, he has lived in Washington, D.C., Dallas/Fort Worth, Indianapolis, San Francisco, and San Jose. He now resides with his wife and two young children in Asheville, North Carolina.